Asimeto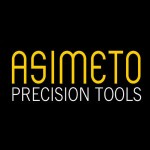 Asimeto es el líder en la fabricación de herramientas de precisión.
Estamos a sus órdenes:
Sin Costo: 01-800-026-7425
MX: +52 (664) 624-4424
USA: +1 (619) 661-6200
Email: info@usmadetools.com
<iframe width="560" height="315" src="https://www.youtube.com/embed/onRaVrSSBpc" frameborder="0" allowfullscreen></iframe>
Precision is not only defined by degrees of exactness. It is defined by the vision and skill of engineers. By problems solved, challenges overcome and reputations made. The real value of precision is the power it gives engineers to turn plans into reality.
Asimoto - read more...
Asimeto was founded in 2007 by renowned German metrologist Manfred Eisinger. Since then, the company has rapidly established a reputation for manufacturing high-performance precision tools and solutions and delivering them at unexpectedly affordable prices.
Asimeto continues to win market share by applying German metrological design, American technological innovation and Asian manufacturing competitiveness across a broad range of integrated precision solutions, distributed through a global network. Every tool is ISO17025 certified for dependable accuracy and to ensure calibration is compliant with the regulatory requirements of each local market.
Increasingly, Asimeto is the choice of engineers the world over including companies like Volkswagen, Guhring and Boeing. We invite you to discover why.