Carr Lane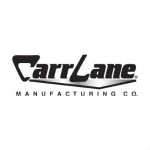 Carr Lane Manufacturing – tu fuente de componentes de herramientas.
Carr Lane Manufacturing es reconocido como el líder mundial de componentes para herramientas estándar, utilizados por prácticamente todas las industrias en todo el mundo. Conocida sobre todo por sus conjuntos de sujeción y componentes estándar, Carr Lane Manufacturing ofrece más de 100.000 productos, incluyendo placas de cambio rápido de herramientas y accesorios, anillos de elevación, abrazaderas de palanca, manijas, perillas de presión, émbolos de bola y resorte, insertos roscados, correas de sujeción, casquillos de perforación, pasadores de alineación, bases para fixturas y dispositivos de sujeción de piezas de potencia.
Estamos orgullosos de hacer la mayor parte de lo que vendemos en nuestras dos plantas americanas ubicadas en St. Louis, MO y Austin, TX .
Estamos a sus órdenes:
Sin Costo: 01-800-087-8665
MX: +52 (664) 215-4040
USA: +1 (619) 446-6747
Email: info@usmadetools.com
Carr Lane Manufacturing – Your Source For Tooling Components
Carr Lane Manufacturing is recognized as a world leader for standard tooling components used by virtually every industry around the globe.
Known primarily for jig & fixture components, Carr Lane Manufacturing offers more than 100,000 products including quick change tooling plates & accessories, hoist rings, toggle clamps, handles, knobs, ball & spring plungers, threaded inserts, clamp straps, drill bushings, alignment pins, fixture bases, & power workholding devices. We proudly make the majority of what we sell at our two American plants located in St. Louis, MO, and Austin, TX.
Carr Lane
The idea that became the basis for Carr Lane Manufacturing came to Earl Walker in 1952 while he was working as a foreman in the Tooling Division at McDonnell Douglas Aircraft Co. (then Curtis-Wright Aircraft), where he saw an ever increasing need for standardized parts.

Mr. Walker and a few others began to manufacture parts in an old wooden garage in St. Louis. Making pins for McDonnell Douglas, they worked nights and weekends while day jobs provided funds for equipment. All of the original Carr Lane Manufacturing catalog product drawings were hand-drawn by Earl's wife, Myrtle E. Walker.
In 1953, their old welder started a fire, burning down the garage. The company relocated to larger quarters, and decades of growth began.
Myrtle Walker, Earl's wife and key to the company's early success, oversaw the building of an inventory of commonly used parts, and initiated a policy of 93% to 96% of orders received by 3 p.m. being shipped the same day. The policy is still in effect today.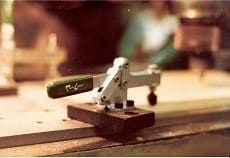 In the early 1960s, aircraft building and OEM manufacturing were rapidly expanding. Carr Lane Manufacturing positioned itself on the leading edge by committing to an in-stock inventory, a solid chain of distributors, and superior customer service. Over the years, the company added thousands of new products, as engineering innovations continued.
In 1996, Carr Lane received ISO 9001 certification, important since Carr Lane by then was exporting globally. The company has proudly maintained this coveted certification ever since.
To assure Y2K compliance, Carr Lane went online on May 24, 1999, with a new Oracle-integrated computer application system for order processing, inventory, and purchasing. The company catalog, then over 550 pages, became part of the worldwide web and available to many more customers than ever before.
Watching every aspect of production has been a central part of Carr Lane's success. Earl and Myrtle Walker attributed a great deal of the company's success to a willingness to make changes as needed. «If you want to be successful, you have to be flexible,» Mr. Walker once said. They also attributed much of their success to their vast distributor network. But most importantly, they both believed in and practiced their original corporate philosophy of striving to provide «Savings Through Standardized Parts.»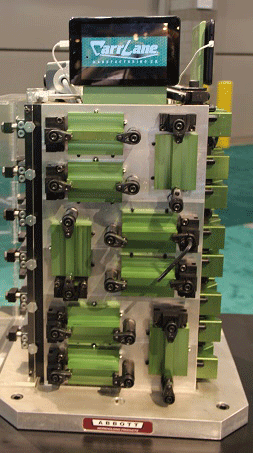 Today, innovations continue at Carr Lane Manufacturing. Now managed by the Walkers' daughter Nance Frost (CEO) and her husband Alan Frost (President), Carr Lane continues to bring the best in the manufacturing tooling industry to its customers. New product launches have brought customers improved quality and faster production methods for the parts they need. A revised corporate identity in 2012 combined with the launch of a new ERP software application and a new corporate website in 2015 continue the company's desire to stay true to its customers' needs by focusing on the industry's future opportunities.
Carr Lane Manufacturing. Using flexibility and innovation to stay ahead of a rapidly changing industry.