Micro 100 Super Carbide Tools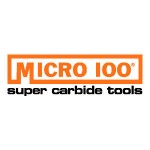 Contamos con gran diversidad de herramientas de corte Micro 100 Super Carbide Tools.
Estamos a sus órdenes:
Sin Costo: 01-800-026-7425
MX: +52 (664) 624-4424
USA: +1 (619) 661-6200
Email: info@usmadetools.com
What makes
Micro 100

a special carbide cutting tool brand for a global economy?

Today's consumers have many choices among numerous carbide brands and can fill their tooling needs from an almost unlimited base of suppliers. By choosing Micro 100, you are selecting not just a premier and high quality U.S. tool manufacturer, you are choosing a unique carbide cutting tool brand that has proudly earned an excellent name in over 70 countries worldwide!

Micro 100 utilizes a proprietary process that increases the toughness of quality micro grain carbide material without diminishing carbide hardness. This tremendous advantage enables the production of superior quality tools with outstanding performance.
Micro 100 Super Carbide - read more...
Best in interrupted cutting and difficult to machine materials!
Micro 100 tools are virtually unbreakable and are guaranteed to solve all interrupted cutting problems, including machine welds and flame cuts. Micro 100 super carbide tools are suitable for machining all workpiece materials. Micro 100 is recognized to achieve exceptional results in tough and difficult to machine materials.
Micro 100 uses the very latest CNC grinding technology and manufactures for the international markets a complete product line consisting of:
Solid Carbide End Mills
Solid Carbide Boring Tools
Solid Carbide Threading Tools
Solid Carbide Ring Groove Tools
Solid Carbide Combined Drill and Countersinks
Solid Carbide Engraving Tools
Solid Carbide Radius Tools
Made in the USA
Micro 100 is a privately owned, Idaho based, company that is not only veteran owned, but proudly employs veterans. Our products are manufactured by exceptional machinists in the United States.